"The Fat Cat" Cat Backpack – For Larger Cats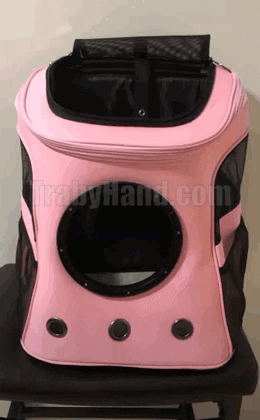 Our breathable cat backpack is great for larger "big boned" cats, 2 medium sized cats (yes, you can use it for two cats), or lots of kittens! All of our styles have a clip and bungee for you to attach a leash so your cat can "hang out" of the backpack!

Specifications:
Maximum Weight: Within 16 kg (35lbs) for cats, within 13 kg (28lbs) for dogs
Backpack weight: about 4.4lbs (2kg)
Backpack size: 15 x 11.4 x 17.7 In || 38 x 29 x 45 cm
Material: Food PC + Canvas
Transparent cover material: Acrylic

Features:
Stylish and Romantic Space: Very suitable for small dogs and small and medium cats. Can accommodate cats and dogs up to 10 pounds. Size: 45x38x29cm. Most airlines approve under the seat. Important note: Please check your airline's requirements before traveling.
Bubble Window: Pets like to see things in this cat backpack, it feels much safer! The bubble window allows pets to see everything in the pet backpack and carry the most interesting travel.
Top Opening Allows Your Pet to Face Outwards: The top has a main zipper opening and a smaller mesh opening, which can still be rolled up using our snap button so that your cat can hang out from the top of the opening. When using this feature, the seat belt hook attachment can provide additional safety.
Durable and Practical: The cat backpack is made of high-quality materials, scratch-resistant, waterproof, easy to clean and light in weight. It is durable and can be used for a long time. The side pockets are also perfect for cans or gift bags with ruffles!
Good Ventilation: A large number of ventilation holes and mesh panels on both sides and top allow air to circulate. Replacement mesh windows are installed for more ventilated use. You can also open the top window or remove the bubble window for your fur friends. The seat belt prevents your pet from jumping out of the harness.

Package Includes:
1 x "The Fat Cat" Cat Backpack – For Larger Cats