Twinblade – The Ultimate Drywall Cutting Tool
Increase your output and get smooth and clean cuts in less time with this fast and efficient drywall cutter!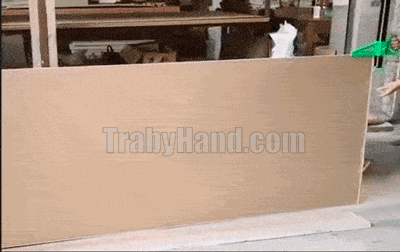 Literally Cutting Edge – This ultimate drywall cutting tool employs a new, patented revolutionary design that makes any wall or board cutting job safe, accurate, and efficient. Double or triple your output without having to sacrifice the quality. You're guaranteed neat edges and smooth cuts with each pass of the TwinBlade! This powerful tool is an absolute must-have for any home or garage!
Meets Your Demands – The blades can be adjusted to adapt to any material of various sizes and thicknesses: any 1/4, 3/8, 1/2, and 5/8 inch drywalls, sheet rocks, gypsum and plasterboards will be an easy job for the TwinBlade. The ABS rotary button can be adjusted to meet your work demands!
Safe & Portable – This multiuse cutter's blades can be reset to ensure that no blades are exposed, thus ensuring your safety. There are no cumbersome accessories so it's portable and ready to use. You can also conveniently put it in your car without worry of damage.
Absolute Quality – The first-class dual blades are of premium quality and can cut through the paper backing on both sides of the drywall at once, leaving a smooth, professional edge, so you can just snap off the rips and go. Easy!

30 Days Money-Back Guarantee – Not happy with the product? Just send it back and you will get all your money back – no questions asked.

Size: The width of the cutting board is adjusted freely by 0.78in – 23.6in / 2cm – 60cm 
Package Include:
1 x Twinblade – The Ultimate Drywall Cutting Tool (Includes 12 Blades)