Automatic Electronic Fly Trap Catch Flies the Easiest and Fastest Way Possible!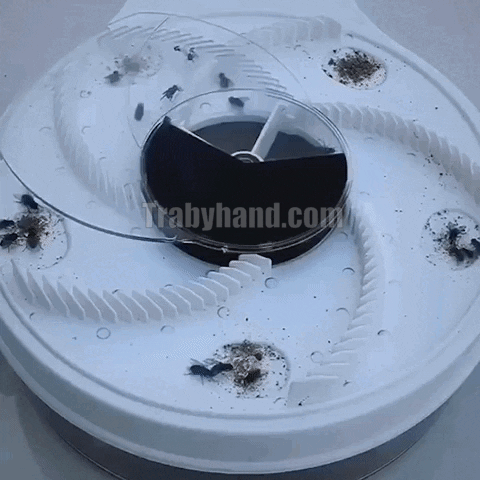 There's nothing worse than pesky flies when you're trying to enjoy your patio, pool, or deck! Sometimes, a gang of flies can accrue in your home when your doors or windows are left open for too long without a screen!
Features:
Catch Flies Easily And Immediately: Do not ever kill the flies that haunt your house, with the AUTOMATIC ELECTRONIC FLY TRAP just catch them easly and give them life outside your home.
Simplicity Overall: Just plug our AUTOMATIC ELECTRONIC FLYCATCHER with its USB INTERFACE and turn it on with just one button, cleaning your space of insects has never been so easy!
High-Efficiency Capture: The high-end technology used in our AUTOMATIC ELECTRONIC FLYCATCHER is the most efficient you will find due to its circular feeding system that continuously keeps on locking flies and bugs in the bottom container.
Safe For The Family: Our product promotes a safe environment thanks to the non-toxic nature of the baits it uses. Feel free to choose the perfect bait to lure the insects in your room. We highly recommend using cheap sugar, honey, and water or vinegar.
Non-Violent Product: The technology it uses does not harm the insects it captures, just places them in a container for you to release them later .
Leave It On Without Worries: Our device is surge protected, giving you the tranquility of leaving the trap on without worrying about fires or damaged by overheat electric unique fly trap lures houseflies and other bugs like fruit flies, mosquitoes, and then, scoops them up! The device is USB powered and runs quietly. It catches flies with physical methods, and hence, it is non-toxic, chemical-free, and harmless. You may choose to release the bugs back into the wild. Otherwise, you can simply wait until their all dead or flood them with water.
How To Use It?
Fill the 5 grooves with bait, (recommended to use sugar or cheese)

Plug in and turn the switch ON

The system goes slowly not to scare the flies

Once the flies are attracted to the bait, it will turn the flies to the trap with its rotating movement.
Benefits:
No flies

No noise

Eco-friendly

Non toxic for babies, pets or pregnancy

No chemicals 
Specifications:
Color: White
Item Dimensions LxWxH: 7 x 7 x 3 inches
Item Weight: 15 Ounce
Package Includes:
1 x Automatic Electronic Fly Trap Catch Flies the Easiest and Fastest Way Possible!