Halloween Witch Pot Smoke Machine Mist Maker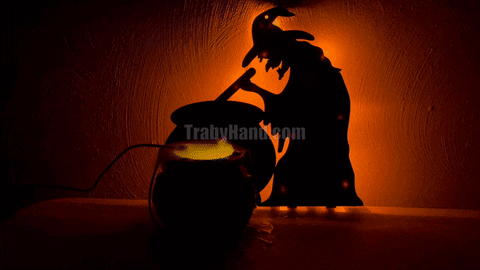 Looking for Halloween decorations for your home?  Boo out your Halloween this year with Halloween decorations from Broadwaytendency. Whatever decorating style you prefer, we have everything you need to make this Halloween the best one yet.
Features:
The Halloween Mist Maker has 12 LEDs that cycle through different colors, combined with the mist effect creates a stunning display!
Operate on a safe 24V system for a plug-in mains adaptor.
Add water, Just plug in and mist will instantly appear. The water is not heated, They have a low water level sensor to switch the unit off if the water level becomes too low.
Bring your Halloween party to life and create a creepy atmosphere with this Cauldron Mist Making.

Specifications:
Input Voltage: 110-240V 50/60Hz
Input Power: 24W
Max Evaporation: 350ml/H
Size: 105 x 140mm
Color: As the picture show
Using Temperature: 1-45 degC
How to use:
Step 1: Install the plastic baffle as shown in the figure. The baffle is 2cm above the bottle mouth to avoid water droplets.
Step 2: Add 150ml of water to the jar
Step 3: Place the atomizer with the baffle in the water stably
Step 4: Connect the atomizer to the power lead
Step 5: Connect the power lead to the power adapter and plug in
Package Includes:
1 x Mist Making Machine with Adapter