Magic Rapid Fill Water Balloons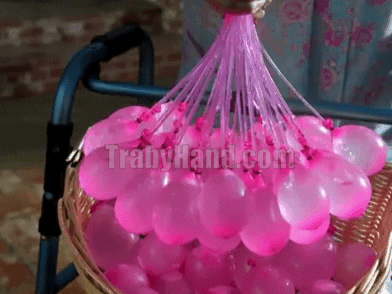 Do-it-yourself balloon making has never been so easy convenient and affordable with our Magic Rapid Fill Water Balloons. They can be easily filled with water to make 100 water balloons in 1 minute in less than 60 seconds. Say goodbye to the stress and mess of filling individual water balloons. Just attach the filler to a hose and watch the balloons fill up. They don't even need to be tied, no need to hurt your fingers, they automatically close up when done and will pop off on their own when they're full.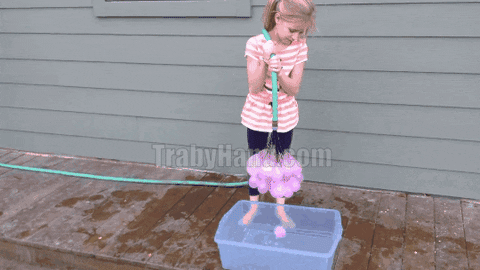 Your children can enjoy water balloons fighting most comfortably.
Children, teenagers, and adults will surely have a lot of fun with our environmentally friendly water balloons, whether it is your indoor or outdoor parties these water bombs are ideal for colorfully decorating all your fun events.
Reasons why our Magical Rapid Fill Balloon is perfect for you!
Water play releases energy- Water play can be both calming and invigorating for children and adults, depending on the activity. Splashing, kicking, and running around the water can be a great way to release pent-up energy. A great way for you to have fun and let off some steam!
Develop motor skills with water play– Fine motor skills and hand-eye coordination are constantly refined as children scoop and pour water and fill and empty containers in a multitude of different ways.
Develop social skills through water play– A great way for children to learn to share and take turns as they share the physical space and the play items in the water. It's an avenue for children to take their first steps from playing alongside someone to playing with someone as they follow other children's ideas and join in with them, or by initiating an idea themselves.
Building language and communication with water play By introducing new play items to their way of playing with water brings with it new vocabulary choices for all the play items and play scenarios involved, a fantastic resource for building new vocabulary and practicing communication and language skills as they play with water.

Water play can stimulate creativity and imagination By regularly changing the play items to go with water to stimulate children's discovery in new ways. Easy ways to change water play instantly is to add color with food dye or add bubbles with dish soap or a bubble bath.
Studies have shown that water play offers many opportunities for children to problem solve, question, explore and experiment. They may be investigating water science, finding out what floats and sinks, or how water moves a water wheel. They may be building their understanding of the properties of water and discovering that water flows downhill and will find a horizontal level. They may be developing math skills and estimating how many small pots of water it takes to fill a large bucket, etc.
Fortunately, our Magic Rapid Fill Water Balloons not only bring a smile to your kid's face but also, instill a lot of knowledge in them. Perfect for children or adults who are still kids at heart, very easy to use, and fun for the whole family. Excellent addition to any family gathering.
Package Include:
1 x Magic Rapid Fill Water Balloons