Montessori Busy Book for Kids to Develop Learning Skills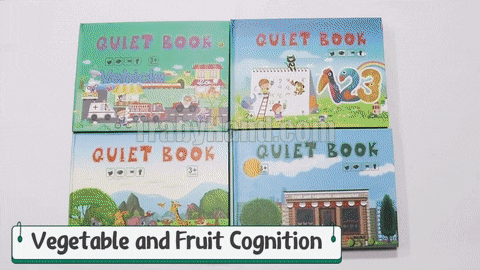 Quiet Book for Toddlers: there are 4 themes in toddler learning toys: Animal busy book, digital busy book, vegetable and fruit busy book, and traffic busy book. This is a toddler learning toy that can enhance children's hand-eye coordination. In the process of learning, children's brain becomes more sensitive to the integration of information through observation, thinking, and memory operation. At the same time, cultivate multi-dimensional senses, so that children can learn happily in the game.
Vegetable Theme Busy Book: Preschool Learning toy vegetable cognition, with a total of 5 storylines, including "name and quantity", "fruit identification", "finding a home for vegetables", "lovely fruit" and "vegetable and fruit puzzle". The vivid and interesting story plots constantly stimulate children's imagination and creativity, travel in the ocean of knowledge, and bring more fun to children.
Preschool Learning Activities: this quiet book is an interactive book for toddler learning toys, which can be operated with children and give you and your children a chance to get familiar with this book. The transparent part is a rough Velcro that should be attached to the book, while the soft white Velcro should be attached to the cardboard. Repeated persistence and matching will improve children's fine motor skills, problem-solving skills, and patience.
High-Quality Materials: a versatile, busy book can be reused and bring endless fun. The cardboard is thickened and the surface is covered with film, which is waterproof and not easy to tear. The size is suitable for small hands to grasp, and children will enhance their sense of touch when pasting books repeatedly. These Montessori toys for toddlers use bright colored pictures to help children better understand their surroundings.
Toddler Learning Toys: Montessori toys for toddlers' activities help toddlers learn naturally through play, durable sensory toys. To develop their fine motor skills. Our preschool learning toys can let children play quietly for hours and give you some quiet time! It can also be a perfect gift for preschool children, who will love it very much.
Package Include: 
1 x Montessori Busy Book for Kids to Develop Learning Skills