Magnetic Levitating Bluetooth Speaker with Colorful Lights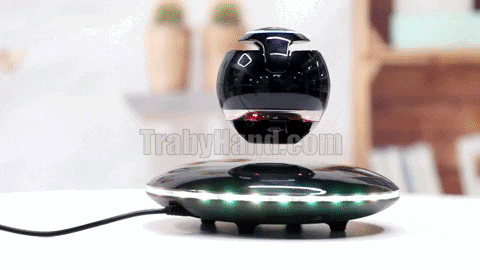 Magnetic Levitating Bluetooth Speaker is a stunning Bluetooth speaker that is levitating above a magnetic base and projects different colors when activated.
Surprise your friends and your family with this incredible levitating speaker. It can be placed at home, office, shop, restaurant or any other places. It is ideal as a gifts for birthday, business or holiday seasons.
Features:
Stunning LED visual effects-the base continuously lights up LED lights of different colors.
The sphere can be used as a stand-alone speaker without a base.
360 Degree surround sound: This levitating speaker has built-in speaker spinning in 360 degrees, sends powerful sound in every direction. Place it at anyplace in a room and enjoy the rich, immersive audio.
You can easily pair this speaker with all Bluetooth-enabled devices (within 10 meters wireless range.
Equipped with 500mAH battery, for 8 hours of playtime on the go.
Supports hands free call and can be connected to any smartphones
It is the perfect gifts for family and friends, so impress them today with Magnetic Levitating Bluetooth Speaker.
Specifications:
Output voltage: 3.7V
Output power: 3W
Input voltage: 5.0V
Signal to noise ratio: ≥ 85dB
Maximum output distortion rate: 0.5%
Battery: b
Size: 160mm (W) x 190mm (H)
Instructions:
Make sure the base is turned ON and placed on a flat surface.
Holding the orb in your hands, slowly lower it towards the center of the base.
When you feel the orb start to levitate — let go! Voila!
To make the orb spin automatically, rotate the orb once manually to get it spinning in the desired direction.
Packaging Includes:
1 x Bluetooth Speaker
1 x Levitating Base
1 x USB cable
1 x Charger
1 x User Manual