Wireless Phone Game Controller For Android/Iphone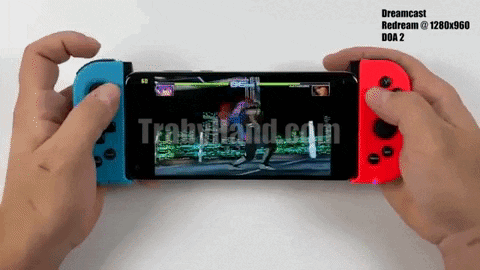 Offers longer battery life–because we know how much you love to game  Mobile Legends. Knives Out. Don't you hate it when your battery dies out in the heat of exciting gaming action? No worries. With this game controller, you'll enjoy 12 hours of nonstop gaming on a 1.5-hour charge.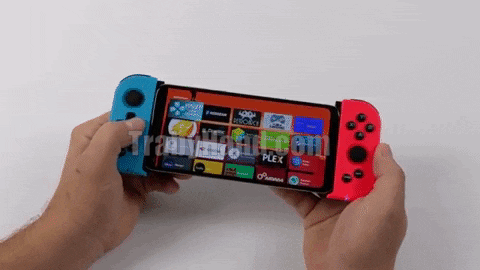 The energy-saving system and telescopic-boom alloy design with heat sink frees your phone from a "fever" so can focus solely on your game.  You'll enjoy great benefits such as being able to turn on Bluetooth without any additional action and using the 12 buttons motion map button to trigger different movements to meet your gaming habits.
Features
Unique Structure: Use the structure of 3 sections, max expend distance reach 16cm; Good potency dimension to clip tightly to a smartphone.
Mini Joystick Design: Mini Joystick (similar joystick as Nintendo Switch console) design,1,000,000 use times; Left-right asymmetry joystick design provides a unique gaming experience.
Trigger Button Design: Use touch switch button instead conducting resin button, short stroke, action faster.
Key Mapping

– 12 buttons motion map button, you can map triggers, buttons for different movements to meet your gaming habits. It also support motions control, giving you stimulating gaming experiences.

Longer Battery Life

– Phone controller will be automatically standby without being used for 5 minutes. Charging for 1.5 hours, gaming 12 hours. Energy-saving system and telescopic-boom alloy design with heat sink free your phone from a "fever"
X6Pro new features enhanced version of the game controller, support Bluetooth +2.4G wireless dual-mode, especially for "peace elite / exciting battlefield", "ing glory", "Wilderness Action", "Mobile_Legends" and other mobile game development Design, even play, no need to re-download the game, simple operation, free installation app;

Bluetooth Direct: Support Android/iOS Direct Play Peace Elite/Stimulus Battlefield/King Glory/All-Army Assault/Endless Duel and other official Press-screen games, match mobile phone players, support APP change button;
Specs:
Wireless operating distance can reach 6-8 meters;

Bluetooth support Android 6.0 or above, support iOS11.0 or above

2.4G wireless support Win7/8/10, Android device and PS3 game console (requires 2.4G receiver)

Compatible with smart phones / tablets / desktop / laptop

Comes with a retractable bracket, up to 168mm
With Button Bursting Turbo function

Colour: Blue + red

Material: plastic

Size:140*87.2*27mm

Stretch Support: compatible mobile phone length 168mm

Compatible Phone Size: 3.5-6.5 inches
Package Contents:
1 x gamepad

1 x charging cable