Squirrels Trouble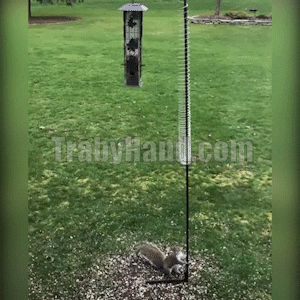 Feed The Birds, Not The Squirrels! Keeps squirrels on the ground and away from your bird feeder with Squirrels Trouble. Its unique spring mechanism deters them from gaining access to your bird feeders or birdhouses.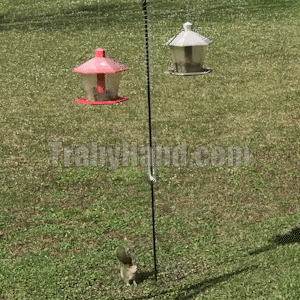 Main Features
Automatically Squirrel-Proof: When a squirrel tries to climb the pole to eat the bird feed, the spring ring is designed to start extending under the weight of a squirrel to make the squirrel slide off the pole, while the spring action frightens it away without harm!
No Extra Adjustment Settings: The Squirrels Trouble is an individually spring-loaded protection device that never needs adjusting, just attach the spring at the top of the support pole-it is ready to go straight to bounce the squirrel away. Not worrying about squirrels and other pests anymore!
Long-range Elasticity: Squirrels Trouble is a spring design, with high-elasticity to extend to enough length and keep a safe distance between bird feed and squirrels, which allows the birds to eat while preventing squirrels from getting a meal, providing a safe place for the birds.
This product does not cause harm to animals.
Specifications
Style A:
Material: Metal
Product Weight: 35g
Size: OD 66mm, height 69mm
Style B:
Appropriate Design – in perfect 14-18 inch diameter that is needed for aggressive squirrels. Anything smaller than 14-18 inches and the large squirrels can stretch and reach around to defeat the squirrel baffle guard. Squirrels cannot climb the pole any longer to get to the bird seed. Flying squirrels will also fly to the ground if they try to jump from trees as the wobble feature will force them to slip off the baffle.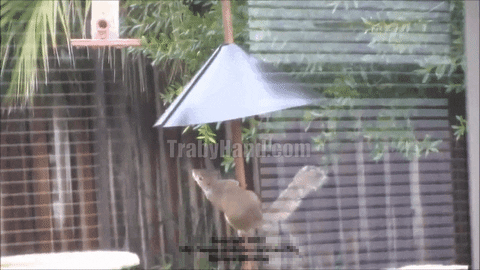 Proper Installation – Squirrels can jump between 4 to 4½ feet vertically, so the squirrel baffles should be a minimum of 5 feet from the ground to protect the bird feeder. The 14-18 inch wrap around squirrel baffle has a take apart design and can quickly attach to existing bird feeder poles or shepherd hooks. Additional pieces that will hold the cover are tapped to the bottom of the unit.
14-inch – finished product diameter 35cm
18 inch – finished product diameter 45cm
Package Include: