Inflatable Bubble Bumper Ball Body Zorb Bouncers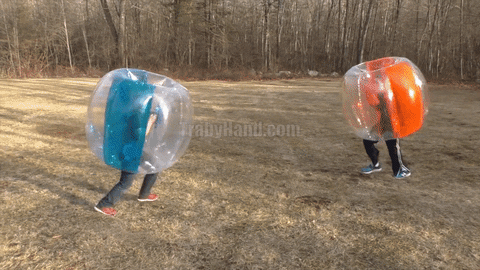 Inflatable Bumper Bubble Soccer Ball is the greatest fun you can enjoy with your family or friends. Enrich your life, enhance the feelings between you and your family and friends, keep your fit at the same time. High quality and inexpensive, healthy and happy coexistence, you deserve to have it.
Features:
Fast Inflation – Made of 0.3MM PVC, it can be inflated or deflated with an electric air pump (not included) within 3-5 minutes.
High Quality Materials – Inflatable bubble balls are made of environmentally-friendly thick PVC material, safe, non-toxic, tasteless, firmer and more durable.
Easy To Use – Seamlessly integrated, thick handles, Double handle to increasing the security of the game. Adjustable shoulder strap, suitable for more people.

Happy Hour – Perfect for family reunions, picnics, birthday parties, barbecues, at the beach, or in schools, theme parks, leisure centers, even in your own backyard.

Specification:
Material: PVC
Size: 90 x 75cm/ 35.4 x 29.5 inches
Fits Age: 4-12
Package Includes:
1 x Inflatable Bubble Bumper Ball Body Zorb Bouncers