Healthy Acupressure Weight Loss Magnet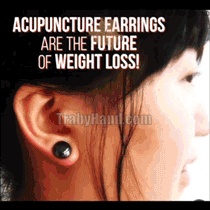 AIt appears a little wacky, however, attaching magnets into certain areas outside the ears can help with reducing weight. The theory supporting the science relies is based on acupuncture and the notion that applying pressure to certain places of the ear may begin and excite weight reduction.
The weight loss magnet combines traditional Chinese acupressure and three advanced scientific innovations: Magnetic Acupressure, Far Infrared Ultrasonic Auriculotherapy and Negative Ionization to achieve positive health benefits such as weight loss, faster metabolism, better rest and sleep, reduction of fats and cholesterol, healthy cardiovascular function and circulation, increase in energy levels, reduction of stress, improvement in the serotonin level to relieve depression and to enhance mood just to name a few.
It is 100% safe and effective. We recommend wearing the device at least 3 hours a day. The magnets place pressure on certain nerves that stimulate blood flow and potentially improve the function of that area of the body, according to Dr. Loren Suen, a well-known acupuncturist. Using it for life will provide great health benefits for you and we are confident that you will feel these benefits the moment you start wearing the device. The earrings should last a lifetime and you can enjoy its benefits for the rest of your life.
Features:
Helps manage weight and improve vision using auricular magnetic therapy in the form of bio-magnetic earrings studs.
Self treatment auricular therapy using acupressure via magnetic pressure on specific points on the ear.
No piercing – the magnets will stay in place by magnetic attraction.
Effectively improves blood circulation, promote metabolism.
Helps manage weight and improve vision using auricular magnetic therapy in the form of bio-magnetic earrings studs. It works on acupressure and the magnets work through auricular therapy using the acupuncture principles to stimulate certain auricular points by acupressure to overcome hunger, suppressing appetite and control compulsive eating. When place on the centrer of earlobe, it helps improve vision.
Auriculotherapy, or auricular therapy, or ear acupuncture, or auriculoacupuncture is a form of alternative medicine based on the idea that the ear is a microsystem which reflects the entire body, represented on the auricle, the outer portion of the ear.
Specification:
Brand new and high quality
Item Type: Massage & Relaxation
Material: Stone Needle
Model Number: Ear massager
Usage: two Cikou sucked in need of treatment corresponding to acupuncture points, repeatedly press day, press for at least 10 times, can not be the time and place restrictions, repeated treatment.
Package Includes:
1 x Healthy Acupressure Weight Loss Magnet