Premium Aluminum Gold Shelves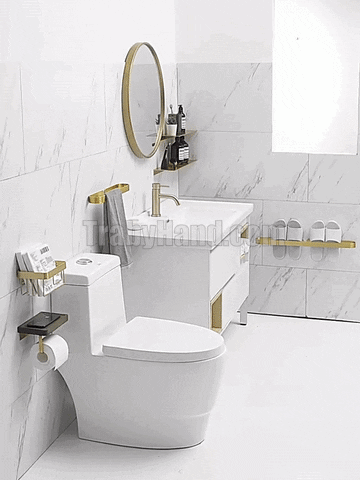 Achieve That Sophisticated Look With Our Premium Aluminum Gold Shelves!
Make your Space Look Luxurious – Who wouldn't want their homes to look and feel sophisticated? With our gold wall shelves, you can achieve the luxurious look in your home! With gold wall mounted shelves, you can spice up your living room, bedroom, kitchen, or even your bathroom.

Easy to Install – Our floating gold shelves are so simple to install, it can be completed in a matter of minutes! It comes with concealed brackets so installation is a breeze!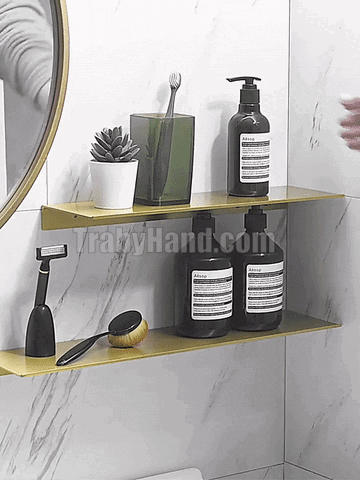 Multipurpose Yet Stylish – Who says you can't have something stylish yet multifunctional? The gold floating shelves are perfect whether you want to display decoration or have more storage space! You can have it in your living room to display your decor. You can use it in the bathroom to hold toiletries and towels, put it in the kitchen to store food or utensils, or even use it as floating bookshelves.
Easy to Clean. Cleaning and maintaining the gold metal shelves is easy. You can simply wipe it clean using a damp cloth to get rid of any dust or stain.

High-Quality Material – Made of high-quality aluminum, this floating shelf will last for years as it is durable.

30 Days Money-Back Guarantee – Not happy with the product? Just send it back and you will get all your money back – no questions asked.
Sizes:
Extra Small –  1.3 x 7.9 x 4.7 inches / 3.3 x 20 x 12 cm

Small – ​​1.3 x 11.8 x 4.7 inches / 3.3 x 30 x 12 cm

Medium – 1.3 x 15.7 x 4.7 inches / 3.3 x 40 x 12 cm

Large – 1.3 x 19.7 x 4.7 inches / 3.3 x 50 x 12 cm
Package Include:
1 x Premium Aluminum Gold Shelves