Fiberglass Fire Blanket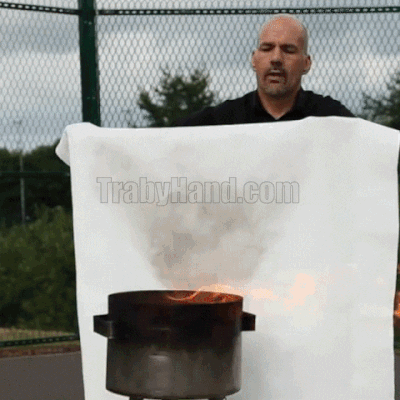 Fires happen fast, and the hard truth is people freak out! Sure, there's a fire extinguisher five feet from you, but before you get it and remember how to use it, that fire is already spreading.
And the entire family's in danger. Kids, adults, pets. Those orange and red flames don't spare people just because they're young and cute.
That means you need to act faster than the fire. And it's gotta be with something even a kid can handle on their own.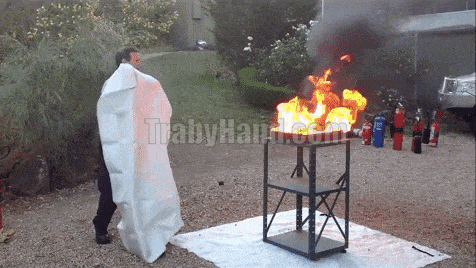 Features And Benefits:
No expiration date. Everything's got an expiration date, except this fire blanket. It lasts forever, literally. No special care required.
Heat resistant. What good would a fire blanket be if it didn't fight heat? This protects you up to 1076-degrees Fahrenheit.
Reinforced edges. The braiding along the edges reinforces the blanket so that it won't unravel with time or with fire.
Stores easily. It's small enough and light enough that it won't be in your way. Keep it close at hand without tripping over it.
Reusable. It doesn't burn up when fire touches it. That's kind of the point. And that means you can use it again and again.
This emergency fire blanket stores easily opens fast and stops fires before they spread.
Protect yourself and your family.
Anyone can use this, even kids. That makes it perfect for your home.
If a fire starts up, just throw this blanket over it and watch the flames go out. It's that easy.
Look, no one wants to think about fires starting, but that doesn't mean they won't.
You don't have to be scared, just be ready. Order this fire blanket today and be prepared for any fire emergency.
The only reason not to get one is… wait, there is no reason not to get one. Protect your home, protect your family. Do it today.
Product Specifications:
| | |
| --- | --- |
| Material | Fiberglass cloth |
| Dimensions | 1,2mx1,5m |
| Weight | 500g |
| Cover type | Softcover |
| Fire safety standards | BS EN 1869:1997 |
| Guarantee | Love it or it's free. No-hassle refunds within 30 days after delivery |
Package Include:
1 x Fiberglass Fire Blanket