Elastic Messy Bun Hair Piece Curly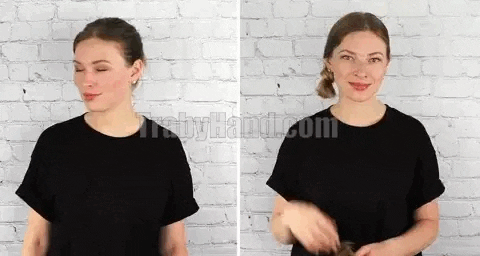 "The Best Money I've Ever Spent On A Hair Product!"
You just can't put a price on a good hair day. Our bun has been shown to give you the perfect results every-time for your messy bun look or your money back guaranteed.
Made of high-tech natural heat-resistant synthetic fibers, The Messy Bun is designed to fit all hair types (even thin and short hair) to give you the perfect boost of confidence wherever you go.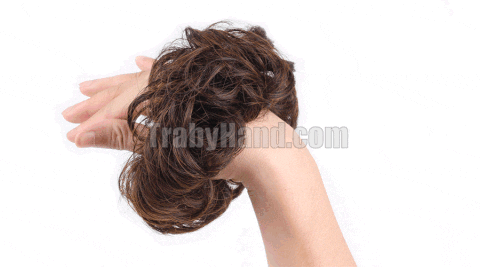 Wear it comfortably at work, at the gym, weddings, nights out, dates, and even when traveling to enjoy a good look all day, every-day!
Simply tie your hair into a bun, twist the JuvaBun around your bun and style as you desire. Simple and gorgeous.
The Messy Bun will hold your hair in place while getting instant hair volume with natural looks that will hold all day long.
Forget about all the money and time wasting on professional hairdressers for professional updo results as you can now do it in seconds with the Messy Bun magic!
See What Others Are Saying:
"I was really impressed with this product. It transformed my hair completely! I use it for corporate events, nights out, even a wedding I was in where gals spent a mint getting their hair in an updo. Mine took about 2 minutes and people raced about it. Nobody could have told it was a hair bun they thought it was a professional hair do I did!
These buns are awesome!"
-Natalie
Why The Messy Bun?
Easy & Fast To Use
Gives You Instant Hair Volume
Unnoticeable To Others – Looks Like Your Real Hair
Fits All Hair Types – Even Short And Thin Hair
Doesn't Effect Your Hair
Reusable & Easy To Clean
100% Money-Back Guarantee
16 Different Color Choices:
Frequently Asked Questions:
Can Messy Bun products be washed? Yes! You can wash Messy Bun products with hair conditioner/shampoo in cold water. Just insert your extension into cold water and soak for about 5 minutes.  We recommend washing them every 10 uses or once a month.
Can the bun be brushed or combed easily? Yes! It glides easily through the hair.
 Do I need to style it? You don't need to style it. It comes already styled as showed in the pictures. Just make a regular hair bun, then put the Messy Bun around your hair. Not only that you don't need to style it, but it will also make your hair look fuller and nicer!
I have thin hair, will it fall out? Nope! You may need to double it around more than once but it will definitely not fall out. It's on a hair-tie, so you can double it as if you were wearing a ponytail holder.
Do I make a bun with my own hair and then attach it over? Exactly! Just put it on like you would make a ponytail. Depending on the length of your hair to how much you will need to double it around your own hair.
Package Include:
1 x Elastic Messy Bun Hair Piece Curly