Diatom Earth Japanese Bath Mat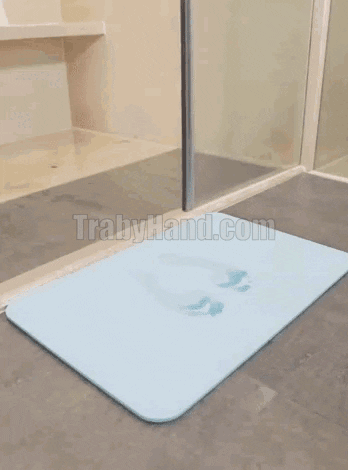 Available in three natural colors, using Diatomaceous Earth (DE) from Ishikawa and Akita Prefectures, the Diatom Earth Japanese Bath Mat absorbs water instantly, leaving your feet dry, clean and free from bacteria that traditional bath mats harbor.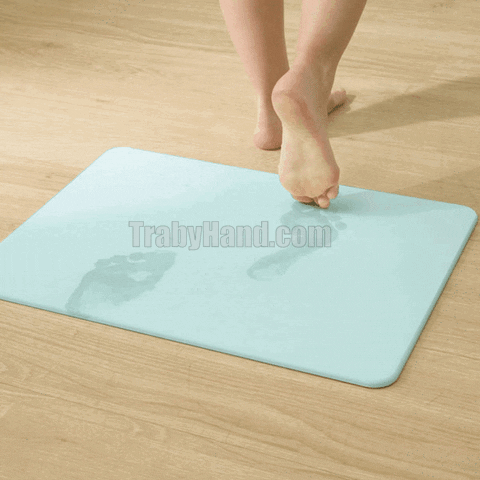 This bath mat is entirely natural, with nothing else added and does not require any washing. It's simply harvested and molded, using craftsmen's trowels.
Diatomaceous soil is made from tiny, fossilized water plants that existed in the prehistoric period so when you dry your feet, you'll be standing on thousands of years of Earth's history!
The secret to the mat's moisture-wicking quality lies in the millions of naturally occurring, microscopic holes which make it incredibly porous and deodorizing. The tiny particles in the diatomite soil allow water to evaporate quickly in natural air, eliminating the safe haven for mold, mildew, and bacteria.
The picture below is a good indication of how quickly the mat can return to its original, dry state.
Standing on the cool mat straight after a hot bath or shower is said to give your whole body a fantastic sensation. Many customers also commented that it was fun to feel the mat sucking the wetness from their feet, which was unlike anything they'd felt before.
Features:
Super Fast Drying Powers: The Diatom Earth Japanese Bath Mat can dry large amounts of water within a minute!

Keep Your Bathroom Safe & Dry: Avoid injuries and accidents from a wet bathroom floor

Anti-Slip Surface: Not only does it keep your bathroom floor dry, but the also makes sure you don't slip to prevent falls

Antibacterial, Anti-odor, and Anti-mildew
Natural, Safe and Nontoxic: Made from natural diatomaceous earth from Japan. The white mat contains soil from Akita Prefecture, the pink has soil from Ishikawa Prefecture, and the green uses a combination of the two.

No Washing Required: Simply splash the mat with running water or wipe with a wet cloth or sandpaper and the mat will be as good as new
Sizes:
45 x 35 x 0.9 CM

60 x 39 x 0.9 CM
Package Includes:
1 x Diatom Earth Japanese Bath Mat