Car Steering Wheel Lock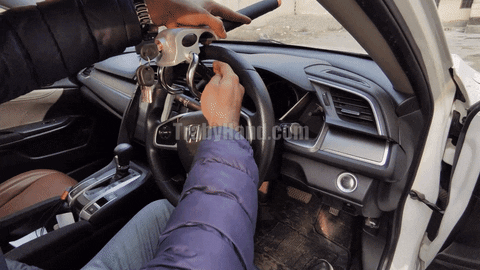 Steering wheel locks are a secure second line of defense when it comes to ensuring someone doesn't drive off with your preferred method of going to work every day. While many modern cars have built-in steering wheel locks, these can sometimes be bypassed with ease, and not all models sport the feature.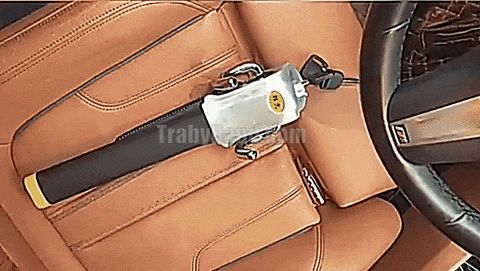 While the locking mechanisms of car doors are fairly complex, which is their failure and why even high-tech vehicles can get boosted, steering wheel locks revel in simplicity.
Once the thief has gotten into the car, they will need to perform driving maneuvers more complex than moving forward in a straight line, hence the use of the steering wheel is necessary.
Wheel locks seek to impede their ability to use the said wheel, most often by sticking a big metal rod in the way. Fairly simple, extremely effective.
The locking mechanisms on wheel locks are generally made to be far harder to pick or bypass than that of the actual car door (which raises some interesting questions) and I'd like to see a human being possessing enough brute strength to remove the said lock, mixed with enough finesse not to destroy the entire wheel assembly in the process.
Some steering wheel locks take a different approach, but the basic idea is always to put some kind of physical barrier which prevents the would-be thief from making off with the car. Wheel locks double as preventative measures, as unless your windows have been tinted, someone screwing around with your door will at least glance into the car itself. Since the main tenets of thievery are speed and stealth, bothering with a wheel lock at all isn't something most thieves will risk. 
Nonetheless, you're here to secure your car, which means securing it against the fraction of thieves who will actually try to get past the wheel lock, hence you need one that stands up to punishment like this Foldable Anti-Theft Steering Wheel Lock. This steering wheel lock is a fantastic and creative solution that manages to fit more interesting features into the device without losing sight of the steering wheel lock's roots of being a simple but effective solution. In addition, it also manages to do this while looking really stylish.
Its design fits right in with any elegant vehicle. Instead of being a crude metal and plastic contraption, or having loud colors like yellow (which is common on steering wheel locks), the two shafts of this model are covered in faux-leather, tipped with a brass end. The central assembly is silver, stamped with a small and unassuming company logo. While the simple, black and silver Master Lock 263DAT wouldn't have stuck out in an elegant car, this model downright fits in. The steering wheel lock's most noteworthy feature is a feat of creative engineering which we wish other manufacturers would nick for their own models. A flap almost as long as the steel immobilizer extends over the steering wheel itself, and the mechanism of the lock ensures that if tampered with and opened without being properly unlocked, the pressure would force the flap to activate the car's horn. Thieves are easily frightened and the last thing they want is to draw attention with such loud noises.
This steering wheel lock falls into the family of locks that use a steel immobilizer resting on the dashboard to prevent the wheel from being turned. The device is secured to the wheel itself with two hooks that lock into place and prevent the lock itself from sliding around the circumference of the wheel. The immobilizer, airbag apron (this is what the manufacturer calls the flap that would sound the car horn) and the section under the main assembly which comes into direct contact with the steering wheel are all cushioned to make sure that the device doesn't even scratch any part of your car it comes into contact with.
Features And Benefits:
Material: High-quality Alloy+Leather.
When the lock is cut by the thief, airbag apron will press the car horn to make alert.
Suitable for most steering wheels with thick cover.
The angle of the lock apron can be adjusted so as to make it more suitable for use.
There is an anti-wear cushion on contact areas in order to protect your steering wheel from any damage.
It can be folded and placed under the driver's seat when it is not used.
Lock handle is covered by high-quality PU Leather with man-made sewing, high-grade in appearance and durable in hot summer.
Three-direction lock design: the steering wheel locked at the left side, right side and airbag direction. According to the manufacturing test, it will take more than 45 minutes to cut all three parts out, while, the most thief will give up in 5 minutes. So, it's very safe for car owners.
Lock beam is made of high-quality steel alloy, which hardness is two times of regular 304 steel. So, it's still in good condition at the violent destruction of 16 tons of hydraulic shears.
Package Includes:
1 x Car Steering Wheel Lock