Bourbon Whiskey Barrel Shelf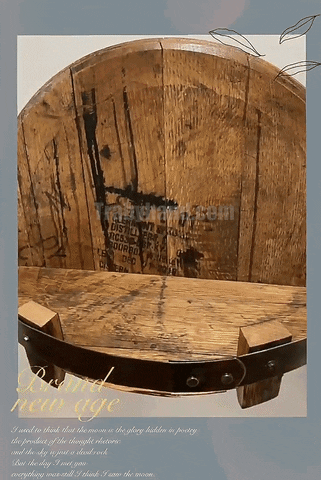 Display your bourbon or whiskey collection on this shelf made entirely from whisky bourbon barrel heads, staves, and the metal bands that are used to secure bourbon barrels.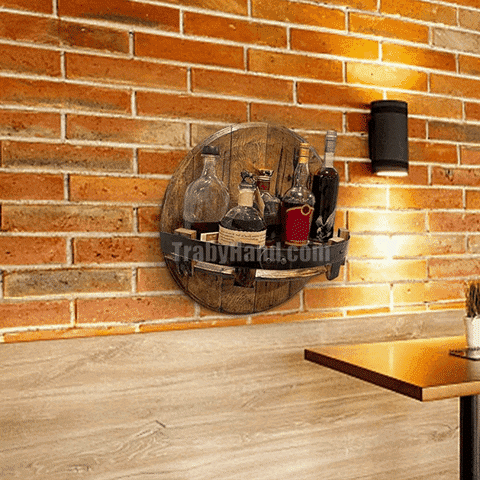 Shelves are finished in polyurethane to accentuate the beauty of the oak barrels. The back of the shelf is crafted to the same detail as the front and comes with a D-arc hanger attached to the back. The rack will hold about 7 bottles depending on how they are placed. It is equipped with a very sturdy bracket system at the back to hang it. Best gift for friends or for yourself.
Specifications:
Materials: Metal
Height: 30cm
Width: 30cm
Depth: 16cm
The stamp on the barrel head will vary with each order depending on the inventory at the time. Some of the barrel heads are blank with no lettering.
The shelf comes ready to mount.
Material: Wood/ Iron
Packing size: 30.5 x 39. 5x 2cm
Large disc size: 30 x 30 x 0.5cm
Semicircle size: 30 x 29 x 1cm
Longboard size: 19.5 x 4 x 1cm
Short board: 6 x 3 x 1.2cm
Soft belt size: 40.5 x 3cm
Product size: 30 x 30 x 16cm
Package Includes:
1 x Wall-mounted Wine Rack (Assemble by yourself after receiving the goods