Dog Drying Bag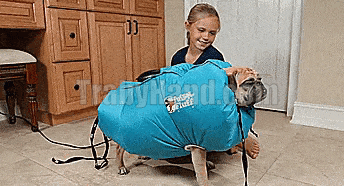 Drying wet dogs can be tiring, isn't it? With our Fluffy Puppy Dryer, forget the hassle of drying wet dog. Place dog dryer on your dog and attach to virtually any blow dryer to dry your dog quickly.
Easy To Use: Just lay the warp of the dog hair dryer flat on the floor, place your dog on top of it and put their paws through the designated leg holes. Wrap it up around your dogs back and Velcro it shut, tighten the strap around their neck. Connect your blow-dryer to the hose, and turn it on.
Innovate Design: Our unique dog dryer uses your hair-dryer to inflate a wrap that goes around your dog's body and circulates warm air from the blow-dryer to quickly dry your dog in a matter of seconds.
Design For Your Dog: This dog dryer comes in a few different sizes to choose from depending on how larger or small your dog is. You can use this dog blow dryer on pretty much any breed of dog.
Time-Saving: No more waiting hours for your dog to air-dry on their own by running around and most likely getting dirty again. Our pet dryer saves effort and you dry your pet in minutes.
Efficient Device: This dog blow dryer will inflate and send a constant stream of warm air around your dog's body to dry them quickly and efficiently without the need for a towel.
Specifications:
Color: Blue.
Quantity: 1 PC.
Material: Oxford cloth.
Package Include:
1 x Dog Drying Bag (without hairdryer)