360 Rotary Professional Kitchen Knife Sharpener Sharpening System Apex Kme Edge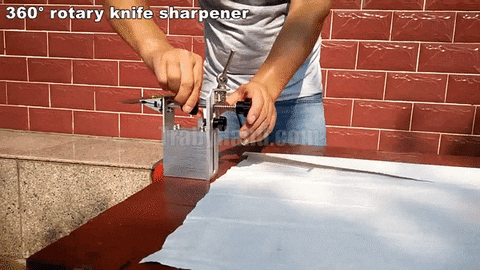 Features:
360° Rotation: Our Knife sharpener Kit with 360 Rotation Design, easy to adjust angel range, the screw can be adjustable Fixed Angle that you need, you can flip over your blade and sharpen the other side to keep the same angle.
Fixed Angle Sharpener: Knife Sharpener design with C-clamp clamps securely on tables, stools, kitchen stovetops or other platforms, and a metal blade fixture secures the blade.
Premium Sharpener: Knife sharpener with professional Diamond Sharpener. The sharpening stone can become a sharpener for rough grinding, fine grinding, polishing, in seconds and your blade will be razor sharp!
Safety And Firmly: Professional knife sharpener with adjustable handle located on the upper front part of the stone holder, away from the blade, therefore you can restore the knife quickly and safely. The knife sharpening kit can provide maximum safety and convenience for you to whet the knife, never worry about getting hurt while honing.
Extended Range Of Applications: Knife sharpener just sharpen your knife with WATER, not with expensive sharpening/honing oils. Perfect for sharpening different kinds of knives: Serrated edge, kitchen, hunting, chef, meat, paring, Sushi or barbecue and even to hone: axes, scissors.
Specifications:
Material: metal
Weight: 1.1kg
Applicable industry: metal processing
Package Includes:
1 x 360 Rotary Professional Kitchen Knife Sharpener Sharpening System Apex Kme Edge