100% Natural Permanent Hair Removal Cream
Removing unwanted body hair need not be expensive and time-consuming. Try our Smooth Body Hair Removal Cream. It will save you from seeking professional help in getting that silky smooth hairless skin you've always wanted.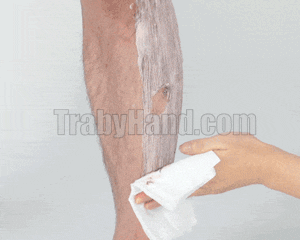 This is a creamy hair removal product that will effectively and painlessly remove unwanted hair without leaving any swelling, just like shaving with a razor. This body hair removal cream will make the whole hair removal process, smooth and inexpensive.
Features:
Containing botanical extracts, gentle skin-friendly, nourishing and moisturizing the skin, gently removes body hair,
Smooth and clean, and clears pores and dirt, nourishes and repairs, smoothes skin after smoothing, and easily shows silky skin !
Removes unwanted hair fast, efficiently, and smoothly without causing damage to the skin.
Dissolves even the most stubborn stubbles and ingrown hairs.
Provides a soft, supple, and smooth finish to the skin.
Hair takes longer to regrow and when they do, they regrow thinner and less awkward looking everytime.
Product ingredients:
Water, petrolatum, simmondsia chinensis seed oil, Steareth-2, Calcium thioglycolate, Cetearyl alcohol, Steareth-21calcium hydroxide, DMDM hydantoin
Usage Method:
Apply the depilating cream to the skin along the body hair, the thickness is better to cover the hair body, do not rub with the scraping board;
Let depilatory cream remain in skin 8-15 minutes, wait for body hair to appear crimp and soft condition, can use scraper to test a small skin gently, if body hair breaks away easily, usable scraper is adverse blow goes remaining depilatory cream;
If the body hair does not fall off, you can stay for a few more minutes, the total time should not exceed 15 minutes;
Rinse the hair removal area with water immediately and apply other maintenance products after drying.
Specifications:
Package Includes:
1 x Smooth Body Hair Removal Cream